Our dentists and team understand that for many, the costs associated with dental care can seem intimidating. At the same time, we do not want those concerns to keep you from visiting Vive Dental Day Spa for the care that you need and deserve for you smile. We are committed to working with you to find a way to pay for your dental treatments in Chevy Chase, Maryland, that is the best fit for your budget.
We are strictly a fee-for-service practice. This allows us to offer custom treatment plans designed specifically for your smile without the restrictions and regulations that insurance can place on your options. However, we can file your insurance claims as a courtesy and can conduct a benefits review to help you maximize your coverage. Our team will also be happy to submit pre-authorization information to your carrier. If you are not using insurance or need to cover the cost of a co-pay or out-of-pocket expenses, we can also accept:
Cash
Check
Credit cards
Flexible spending accounts
Health savings accounts
You may also find that financing your treatments is a better fit for your situation. Our office works with CareCredit® and LendingPoint™ to provide you with additional payment options, including zero-down, no-interest payment plans! Please follow the links below to learn more and complete your application.
Beautiful Smiles Wellness Plan
Even if you do not have access to dental insurance, you can still see Dr. Janet Oyeledun or Dr. Dayo Ogunnaike to receive the treatments you need to get the most out of your smile. When you call our office at 301-664-9695 for your appointment, be sure to ask about our wellness plan. Let us pamper your smile!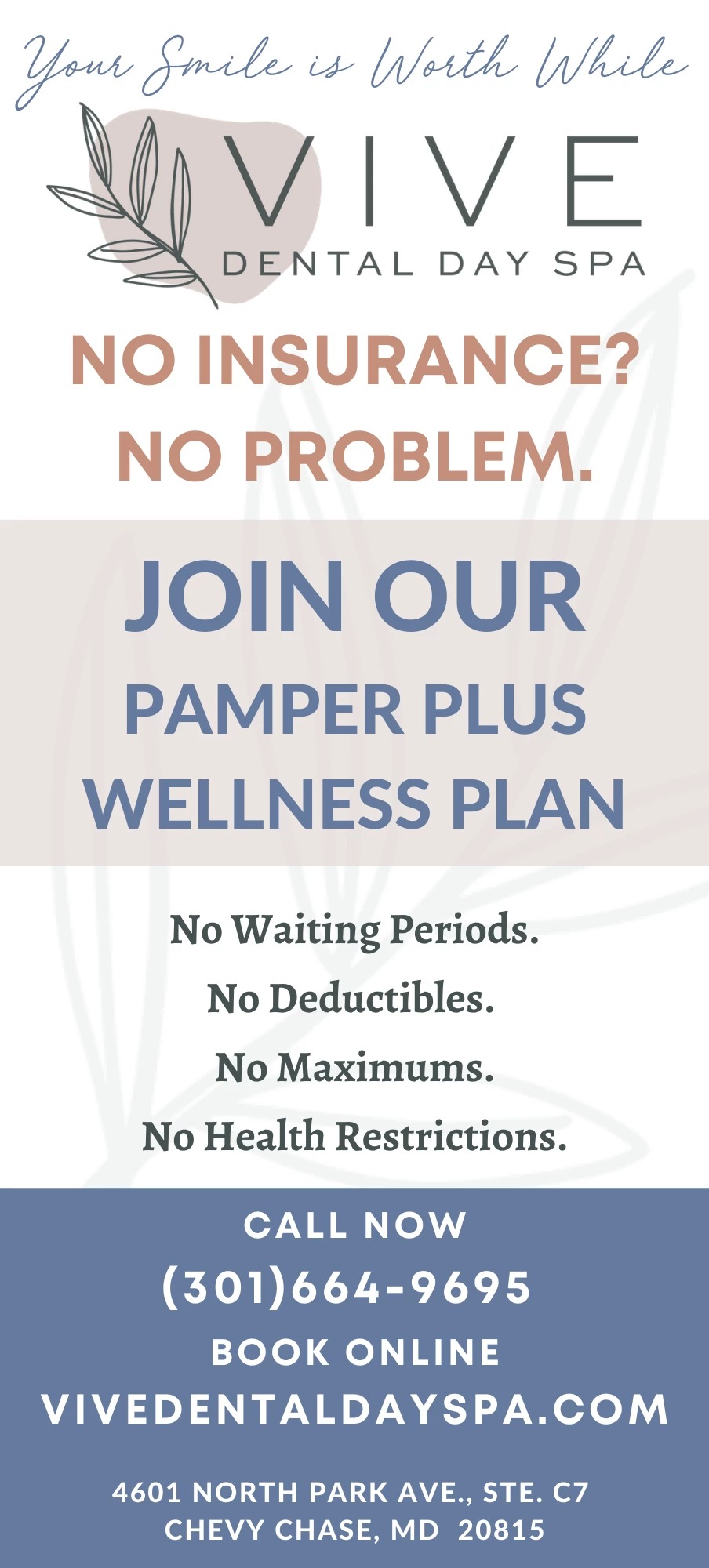 Our Adult Plan (Ages 14 +)
$575 per year (a savings of $727)
2 Periodic Exams
2 Cleanings
2 Fluoride Treatments
2 Oral Cancer Screenings
Necessary X-Rays
1 Emergency Exam
---
Our Children's Plan (Ages 13 & Under)
$475 per year (a savings of $721)
2 Periodic Exams
2 Cleanings
2 Fluoride Treatments
2 Oral Cancer Screenings
Necessary X-Rays
1 Emergency Exam
---
Our Periodontal Plan
$775 per year (a savings of $1,140)
3 Periodontal Cleanings
2 Periodic Exams
2 Fluoride Treatments
3 Irrigation Treatments
Necessary X-Rays
1 Emergency Exam
---
You can also enjoy up to 20% savings on other general dentistry services.
Our Dental Savings Plan is not insurance. It is a payment arrangement offered exclusively by Vive Dental Day Spa and is not transferable to other offices. Payments must be current in order for patients to use their plans, and payment for restorative or cosmetic treatments must be made at the time of service. It is the responsibility of the patient to schedule and keep their appointments. No refunds will provided, including failure to make keep appointments. Enrollment in the monthly plan constitutes an agreement with the legal entity of Vive Dental Day Spa. Monthly dues and fees are subject to change at any time. Fees may be prorated for new members who are added to an existing account. Discounts do not include orthodontic treatments such as Invisalign®. Facial aesthetic treatments are also excluded from the discount. Needed X-rays will be determined by the doctors at the time of the exam (excluding CBCT). Fluoride treatments and periodontal maintenance are at the discretion of the doctors.
Some exclusions may apply.