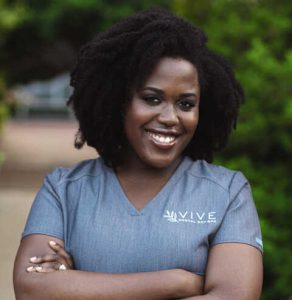 Dr. Janet Oyeledun, a Montgomery County native, received her undergraduate degree in bio-behavioral health from The Pennsylvania State University in University Park, Pennsylvania. Dr. Oyeledun then continued to the University of Maryland School of Dentistry, where she obtained her Doctor of Dental Surgery degree. Following dental school, Dr. Oyeledun completed a post-graduate residency program in general dentistry at Bronx Lebanon Hospital Center in Bronx, New York, where she completed countless hours in emergency dental care, oral surgery, periodontics, endodontics, pedodontics, general anesthesia and hospital dentistry.
Dr. Oyeledun, a behaviorist by training, has a true passion for public health, specifically improving access to quality healthcare. She has participated in several Mission of Mercy programs, providing free dental care to underprivileged populations, and has traveled to the Dominican Republic where she provided oral healthcare to school children with limited access to dental care. She dedicates her practice to motivating patients on behavioral change, following the Health Behavior Model to promote maximum oral health, while providing a relaxing atmosphere suitable for patients of all ages.
Dr. Oyeledun is a distinguished member of the Gamma Pi Delta Prosthodontic Honor Society, the American Academy of Facial Esthetics, the American Dental Association®, the Academy of General Dentistry and the National Dental Association. Dr. Oyeledun is currently in the process of obtaining her fellowship in the Academy of General Dentistry, a title that is held by only 6% of practicing dentists. Dr. Oyeledun is a certified Invisalign® provider and has obtained her certification in Oral Health Leadership and Education from the Academy of Academic Leadership. She is also one of the few certified providers for Oral Rapid HIV Testing and Counseling. Dr. Oyeledun holds a certificate from the Dental Organization of Conscious Sedation (DOCS), as well as certification in botulinum toxin and dermal filler injectables. She dedicates a good portion of her practice to cosmetic and facial aesthetics.
Outside of dentistry, Dr. Oyeledun enjoys spending time with her husband, her two children, family and friends. Dr. Oyeledun is a huge travel fan, loves interior design and is a very active alum of her all girls boarding school. Dr. Oyeledun loves cooking and collecting exotic spices from all around the world. You may recognize Dr. Oyeledun, as she has also made guest appearances on a television show!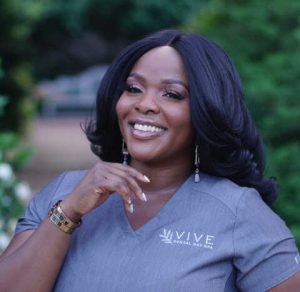 Dr. Dayo Ogunnaike was raised in Silver Spring, Maryland. She is one of four dentists in her family — with more on the way! She attended the University of Maryland in College Park for her undergraduate studies and received her Bachelor of Arts degree in philosophy with a concentration in communications and linguistics. Her intentions were to attend law school. As an undergrad student, Dr. Ogunnaike earned money as a beautician and cosmetologist. She obtained a cosmetology license as an apprentice in a salon and barbershop. While receiving orthodontic treatment, she found another way in which she could incorporate her love for beauty and aesthetics in the medical field. This is also when she discovered her deep interest in oral health and hygiene, so she deferred her admissions to law school and secretly pursued dentistry. She received her Doctor of Dental Surgery degree from the University of Maryland's School of Dentistry, which happens to be the very first dental school in the world!
While in dental school, Dr. Ogunnaike became an Albert Schweitzer fellow and has committed her career to addressing the oral health care needs of underserviced communities and populations. She continues to participate, volunteer and commit her time to community service activities that promote oral, mental, and physical health and beauty. Holding a dental license in the state of Maryland and in Washington D.C. allows her to service a wide and diverse population of patients.
She is currently a member of the American Dental Association and the Maryland State Dental Association, and she is pursuing her fellowship in the Academy of General Dentistry. Dr. Ogunnaike is a certified Invisalign provider, and she is also certified in botulinum toxin and dermal filler injectables, which is another way in which she loves to combine cosmetology and dentistry.
Dr. Ogunnaike loves spending time with her daughter, traveling, cooking, attending family events, styling hair, sewing, and working on DIY projects and arts and crafts. Dr. Ogunnaike and her husband are also big drag racing and Formula 1 fans. They attend national drag racing events around the country. Dr. Ogunnaike and her husband attend at least one Formula 1 race a year in different countries around the world!
Meet Our Team
We invite you to put your smile in our hands! The team at Vive Dental Day Spa is here to help our dentists deliver expert, patient-centered dental care at every visit. Our team members are kind and outgoing and will always make you feel comfortable and at home during every dental appointment in Chevy Chase, Maryland. Our team members speak English, Spanish and Yoruba to meet the needs of our growing community, and you can contact them at 301-664-9695 to schedule your visit.